Description
Single 100mm tall Skirting Board Cover External corner for our 100mm Ambassador Skirting Board Covers
Our Ambassador PVC  Skirting Board Covers are the best way to quickly and easily improve the look old old, poorly painted or even damaged skirting boards.
Hide surface mounted pipes and wiring between the wall and this L shape profile board. These boards give you around 30mm of space, so you will even be able to hide the larger 22mm heating pipes.
These boards are 2metre in length and 100mm tall. This means they will cover an existing board of a maximum height of 90mm. They protrude 40mm from the wall overall and are made from 10mm PVC.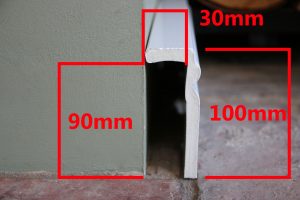 Pre finished, these Skirting Board Covers are simple and quick to install, simply use adhesive to attach them to the wall, remembering to use a spacer behind of suitable thickness to allow the skirting to firmly hold in place.
Finishing the corners and straight joints is up to you. The boards will cut nicely with a fine tooth saw if you care to mitre the joints. With caulk or white adhesive used to hide and slight gaps that might occur. Alternatively you can use the pre-cut corners and joints which fix over the top of the skirting with a small amount of adhesive, again using a small bit of caulk or adhesive to fill any gaps. the corners and joints will allow you to finish corners which aren't quite 90 degrees, easily.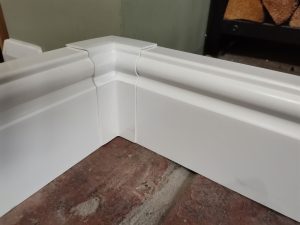 Cleaning your new skirting board covers is a doddle, they are 100% waterproof so you can wipe with a damp cloth to remove any marks. The tough PVC coating does a good job of taking on knocks and bangs without marking or being damaged.